TLDR; Delete All Children v7 adds an option to the context menu for content and media, to allow the deletion of all child nodes. Download it here.
I have been developing with and in Umbraco for quite some time now and I really enjoy developing websites with it. With the launch of my site/blog I actually also started using Umbraco to create content; which is always good for a developer. This way you might be facing the same problems your content editors could have.
While creating this blog and my site I actually realised Umbraco doesn't have a way to quickly delete all child content from a node. Actually, none of three content management systems I use and develop for have this feature. This could mean there is absolutely no demand for this functionality, but I actually have come across a lot of situations myself when I could use this and also have received several requests from clients for this kind of functionality.
So I first did some research on what was already available in the great Umbraco community. The first (and pretty much only) result was the package "Delete All Children Context Menu Item" by Dennis Milandt. This package was exactly what I needed, but as stated here doesn't work on Umbraco 7.
The same forum topic also refers to Richard Soeteman's awesome Bulkmanager package. Although this is an excellent package for executing bulk operations, I wanted a simpler approach which is easy to use for any content editor.
So I decided to build my own Umbraco package based on the work of Dennis, enter "Delete All Children v7". After installing the package you will now have an extra option (Delete all children) in the context menu for both the Content and the Media section. Please note that you will only see this option if you have delete rights for your UserType.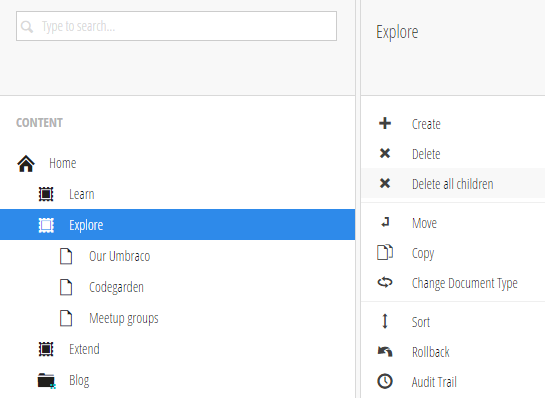 To prevent accidental deletion, after clicking the option you have to explicitly confirm the deletion by checking a checkbox. Click "Ok" and voilá; the child content (or media) is moved to the recycle bin!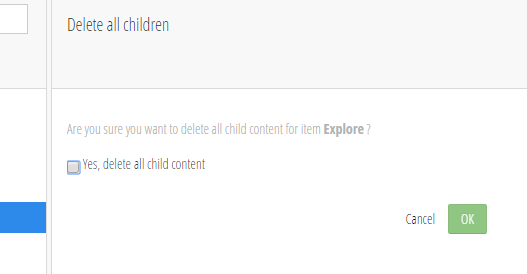 For now the package will only support Umbraco 7.3+, but if enough people find a need for backwards compatibility, I might include this. When you use this package and love or hate it, let me know, suggestions and bug reports are always welcome!